Moanataiari School run an after school programme within our school grounds. Moanataiari After-School Care (MAC) provides safe and affordable care for our students.
After school care is based in the school kitchen where afternoon tea is provided before children have a variety of supervised activities they can partake in.  These include indoor activities such as Lego, artwork and baking as well as outdoor such as playing within the school grounds, on the junior and senior playgrounds and during term 1 they have use of the swimming pool.
The after school programme runs from 3:00 pm – 5:30 pm Monday through to Friday.  If you would like to enrol your child/ren, please contact the school office.
During school holidays SPYC (Supervised Programmes for Youth & Children) run programmes throughout the term holidays including the end of the year. They take a break during the Christmas period and start up again mid-January.  A very exciting and diverse programme is always organised. 
The holiday programmes run from 8:30 – 5:30 pm Monday through to Friday.
An example of the holiday programme: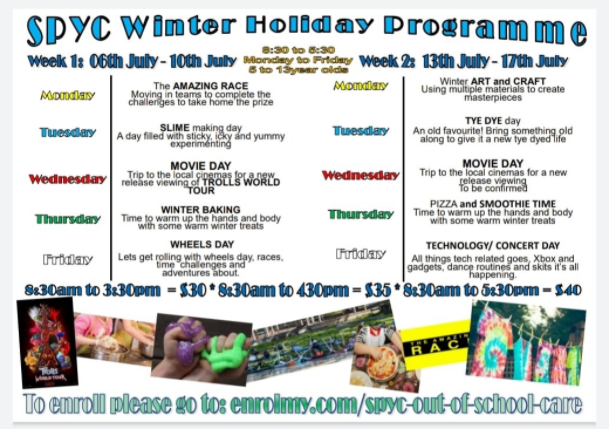 ​
The school holiday programme is not limited to Moanataiari School students. Children outside of our school are able to enrol.
Ella Turoa operates SPYC and can be contacted for pricing and enquiries via any of the following:
They also have their own Facebook page which can be found by searching SPYC Out of school care
To enrol your child/ren and to book into their activities please use the following link.
Out of School care enrolment